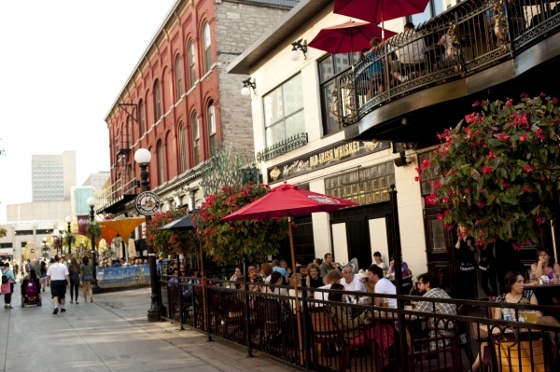 Nothing feels better than getting into a neighbourhood BEFORE it becomes a trendy hotspot. But how can you identiify those up-and-coming hotspots? Here is what to look for...
1. Trendy businesses
Look for a surge of trendy businesses moving into an area. Maybe there are more cupcake shops and microbreweries making an appearance, or perhaps the new health food store that everyone seems to be talking about announced a new store in the area. Large businesses especially do a lot more research and analysis of a neighbourhood. So, big businesses moving in often means a lot of homebuyers will follow.
2. Convenient location
Are there any neighbourhoods that already have a subway station or major highway artery, but aren't getting the attention that other areas are? As cities gentrify, neighbourhoods with strong transportation grids – whether public transport or by highways and bridges – will become more popular.
3. Downsides moving up
Look for regions that have had a sharp improvement in crime rates; as those rates move down, the number of people looking to settle in that neighbourhood will go up. Also look to the new generation of homebuyers, who are likely looking for something different from their parents. While gritty, urban-looking buildings may once have been a turn-off, a new generation might see that as an ultra-trendy hotspot.
4. Architecture
Many up-and-coming neighbourhoods have a definable style of home. Maybe it's the old Victoria properties, or sleek and modern condos. Neighbourhoods with a unique style often become popular over time.
5. Economic development
This one's a no brainer. If a major corporation just built a new headquarters, it'll need workers. And a lot of those workers are going to be looking in the neighbourhoods surrounding their place of employment to purchase homes. Other economic drivers, like new highways or extended transit systems, are great indicators that a neighbourhood could experience a surge in popularity.
6. Lots of renovations
It doesn't hurt to check with local municipal permit departments to see if they've noticed an uptick in the number of renovation and building permits for a particular neighbourhood. Several owners giving their homes a facelift is a good sign that the neighbourhood as a whole will get the same treatment over time.
7. Days on market
A decrease in the number of the days on the market is a strong indicator that a neighbourhood is becoming more popular. People are looking to scoop up houses before anyone else – and that's a great time for real estate agents.
Identify a handful of these up-and-coming areas and position yourself as the go-to expert there. When homebuyers eventually descend on the neighbourhood, you'll be the agent they turn to.